"Hierdie boeke wat vir hulle soveel waarde gehad het, beteken vir niemand anders iets nie," het Ryk Hattingh gelate vir my gesê, die tweede laaste keer wat ek hom gesien het.
Ons was in sy skoonouers se huis, besig om boeke uit te soek. Peter en Pam Mentis is kort na mekaar dood in die twee maande voor Ryk se eie sterfte. Ek moes vat wat ek wou hê, die res word weggemaak.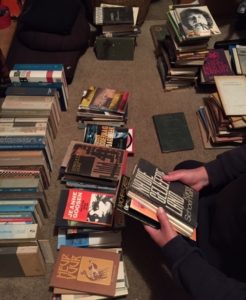 Twee jaar later sit ek hier en sif deur bokse van Ryk se Afrikaanse boeke. Sy kinders kan dit nie lees nie en sy vrou, Marténe, het gevra of ek sal kyk of daar iets te redde is.
Dis natuurlik net 'n deel van sy boekery en weerspieël nie die omvang van sy leessmaak nie. Ryk was geweldig eklekties en het hom telkens met totale oorgawe in 'n nuwe studieveld verdiep.
Selfs hier tussen die "Afrikaanse" boeke duik daar 'n boek oor Egiptiese grammatika op, sowel as woordeboeke in Grieks, Duits en Noord-Sotho.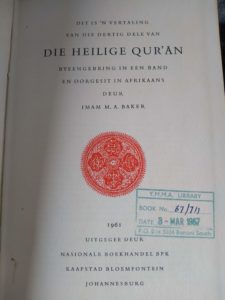 Soos te verwagte, is daar 'n stapel boeke oor bome en grasse en goggas en goete, onder meer 'n ou boek van Oscar Prozesky, Ons voëls (1964). Daar is esoterika, Waarvandaan en waarheen deur Aart Jurriaanse (1973) en godsdiens, Die Heilige Qur'an (1961). Daarnaas, natuurlik, ook 'n gruwelike strokiesprent en subversiewe fotoverhaal. Dis immers Ryk.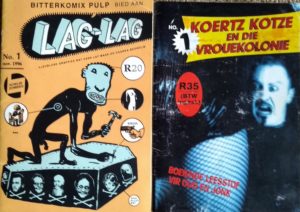 Sy versameling sluit volkseie werke in, soos die FAK volksangbundel van Suid-Afrika (1937); Verwoerd aan die woord – Toesprake 1948-1962; Oupa en Ouma se boererate (1962); Totius Vier-en-sestig dae te velde (1977, eksemplaar 233 van 300) en Die helde van Italeni (1957). In laasgenoemde, so tussen die Boerehelde, kry ek 'n vel papier met die liriek van die allemagtige proteslied "Weeping".
Die klem val egter grootliks op literatuur. Benewens die teorieboeke en literêre geskiedenisse getuig 'n rits Nederlandse boeke van sy studentejare. Maar dis die ander boeke, die wat hy uit eie wil bymekaargemaak het, wat vir my die interessantste is.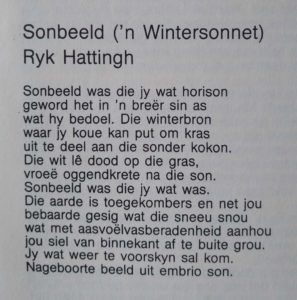 Sy stapel literêre tydskrifte dateer meestal uit die vroeë jare tagtig, maar daar is ook 'n Contrast uit 1974 wat 'n gedig bevat deur ene David Kramer, sowel as een deur my vriend André le Roux, destyds skaars twintig jaar oud. 'n Gedig van Ryk pryk in een van die lateres, sowel as sy huldeblyk by die dood van Koos Prinsloo. Hy haal onder meer aan wat Koos kort voor sy dood gesê het:
"Ek kan nie verstaan hoekom mense so 'n groot ding van die dood maak nie. Dis maar net die natuur. En ons is tog natuur. Ek weet dis miskien maklik om te praat, maar ek dink dis een ding wat ek geleer het, om álles op te stuur en met ironie daarna te kyk. Die dood ook, miskien juis die dood."
Dit, glo ek, sou Ryk self kon gesê het.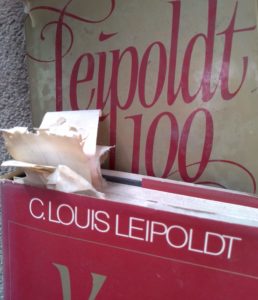 Ryk was natuurlik 'n dramaturg, so tussen al sy bedrywighede deur, en het 'n goeie versameling veral ouer dramas bymekaargemaak, onder meer 'n 1952-uitgawe van Van Wyk Louw se Dias en Bartho Smit se Die verminktes uit 1960.
Van sy digbundels is horingoud. Party het hy dalk tweedehands gekoop, maar ander is kennelik geërf by sy oupa Hitchcock. (Ryk was glo verlangs verwant aan die befaamde rolprentregisseur – sy volle name was Andrew Ryk Hitchcock Hattingh.) Daar is Liefdelewe deur Jan F.E. Cellier (1924); twee versamelbundels, Digters uit Suid-Afrika, saamgestel deur E.C. Pienaar (1935) en Uit ons digkuns, saamgestel deur Tj. Buning (1939); I.D. du Plessis se Ballades (1942); A.G. Visser se Rose van herinnering (1942), Jan F.E. Cellier se Martjie (1944); en D.J. Opperman se Heilige Beeste (1947).
By die prosa is daar ook twee boeke uit de oude doos: Mikro se Die Houtswaan (1956) en D.F. Malherbe se Die hart van Moab (1940).
Terloops, wat was die ou skrywers so met voorletters behep?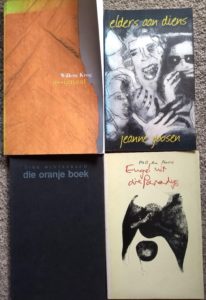 Naas uitvoerige versamelings van ouer Afrikaanse digters se werk, word veral die 1980s goed verteenwoordig, met bundels deur sy somtydse vriend Breyten Breytenbach, sy geliefde vriendin Antjie Krog; bundels wat Ryk self in sy dae by Hond uitgegee het, deur Phil du Plessis, Dirk Winterbach en Willem Krog; en vele ander. Ek sien name soos Joan Hambidge, Johann de Lange, Theunis Engelbrecht, Wessel Pretorius, Lucas Malan en Pieter van der Lugt.
Die prosawerk is eweneens 'n mengsel van gerekende ou skrywers en Tagtigers. Etienne Leroux, André Brink, Chris Barnard, Jan Rabie en Karel Schoeman staan langs Dan Roodt (toe hy nog 'n enfant terrible was, nie 'n adulte terrible nie), RR Ryger, Harry Kalmer, John Miles, Jeanne Goosen, Etienne van Heerden en al wat 'n ding is van Koos Prinsloo.
'n Klompie van die boeke het persoonlike inskripsies voorin. John Miles het 'n mooi boodskap vir Ryk en Marténe in Kroniek uit die Doofpot geskryf. Minstens een inskripsie lyk of hy nie vir Ryk bedoel is nie. Rachelle Greeff skryf voorin Onwaarskynlike Engele "vir my liewe vriend Koos". Het Ryk die boek geërf soos wat ek hom nou erf?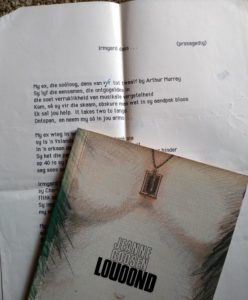 Van Koos gepraat: Toe ek Slagplaas oopmaak, val daar 'n kiekie van hom uit. Dit lyk of dit dalk laat in sy lewe geneem kon gewees het. Dis nie die enigste persoonlike item tussen die blaaie nie. In  Jeanne Goosen se Lou Oond is twee gevoude blaaie met 'n gedig van haar tikmasjien af. 'n Ander boek het 'n nota van Dineke (Volschenk?) van Kagiso Literêr.
Die papiere wat toevallig in die boeke beland het, boekmerke wat byderhand was, vertel hulle eie storie: 'n paar Nieu-Seelandse loterykaartjies (Ryk het geglo jou wenkans is 50% – jy wen of jy wen nie); 'n kwitansie vir hout gekoop in Knysna in 1983, toe hy onderwyser daar was; 'n ongedateerde kwitansie van Van Schaik Boekwinkel; 'n koevert wat sê Ryk Hattingh Maandag en Dinsdagaand 27-28 Julie Downstairs Wits-Teater; 'n stuk van 'n Gitanes-sigaretpakkie.
Die meeste van Ryk se boeke gaan nou hier by my lewe, ten minste vir eers. Totdat dit iemand anders se lot raak om op hul beurt deur my geliefde boeke te sif en te wonder of daar enigiemand anders is wat in die goed belang stel.