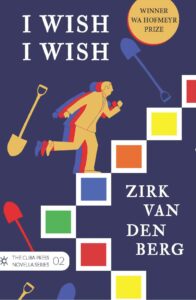 "Van den Berg is a skilled prose stylist who has pulled off something bold and unusual; this is likely to be one of the most singular literary treats you'll encounter in 2021." – NZ Booklovers Award comment

"This beautifully written novel is a sharp-eyed, unsentimental tribute to the power of hope." – Stephen Stratford

"… a moving and deeply felt meditation on marriage, family and mid-life ennui […] Beautifully written, I Wish, I Wish might be just what we need right now – a hard-earned ode to hope." – Greg Fleming, NZ Herald

"… a taut and funny pleasure, suffused with a laidback, understated wit that at its best makes one think of Muriel Spark or Evelyn Waugh." – Paul Little, North & South

"… it is one of those books that causes you to re-examine your own thoughts and desires when you lift your eyes from the page. Definitely one of the most interesting books I have read this year, and in subject matter and the narrative voice, it is refreshingly different." – Susannah Whaley, NZBooklovers.co.nz

"cleverly written novella […] is an existentialist tract" – Vaughan Rapatahana, Landfallreviews
SHORTLISTED FOR THE 2021 NZ BOOKLOVERS AWARD FOR FICTION.
The Afrikaans edition of this book won the 2020 W.A. Hofmeyr Prize for fiction, the 2020 kykNET-Rapport Prize for fiction and the kykNET-Rapport Prize for best filmable novel.
As a mortician, Seb has mastered the art of making the dead resemble the living. He has embalmed countless corpses, unpacked organs, reset bones and made up pallid faced for their final viewing. If he's honest, he prefers the company of the deceased – no surprises and nobody to witness his inadequacy. But they don't make for great work stories – nothing for his teenage children to look up to or attracte the waning interest of his wife.
It looks like another humdrum day at White Lily Funerals when Seb meets Gabe, a dying boy unusually interested in caskets, who forces the mortician to rearrange the pieces of his life and shows him that magic doesn't have to be just a wish.
Read the full review on nzbooklovers.
Read the full review in Landfall.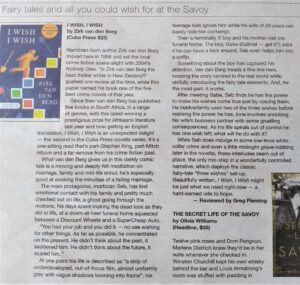 Comments on the Afrikaans edition:
"I Wish, I Wish is funny, clever, tender and surprising. It is, in every sense of the word, an enchanting text." – 2020 WA Hofmeyr Prize commendation
"Kindles the hope that wishes can come true after all. It is the perfect antidote for the current Weltschmerz."  – 2020 kykNET-Rapport Prize commendation
"Enchanted like a child by a fairy tale, I could     not put the book down." – Willie Burger (critic)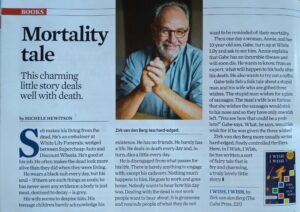 "It's as if it had always been there." – Deborah Steinmair (author & critic)
"Evokes a life with masterful strokes." –  Jean Meiring  (critic)
"A book that proves that less is often more. It's been a long time since I've read a book with so much charm." – François Bekker  (critic)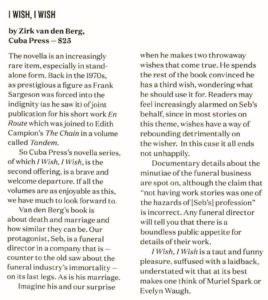 "A pleasure to read and, at times, wondrously funny." – Reinhardt Fourie  (critic)
"Absolutely, totally  blown away by this book. Masterful." – Jonathan Amid  (critic)
"It captured my heart." – Marita van der Vyver  (author)
"What a lovely, lovely book." – François Smit  (author and critic)