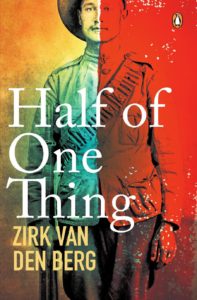 The smooth, cool narration of these events belies the serious issues underlying day-to-day survival. When is it justifiable for a soldier to shoot to kill? […] it's a seductive read. – Jane Rosenthal, Mail & Guardian

… it is a beautiful read. Zirk weaves poetry into descriptions of the vast, often barren South African landscapes and leaves one yearning for more – more of Gideon and Esther, more of Klein Steyn, and much more of his writing. – Cindy van Wyk, The Namibian

Zirk Van Den Berg has produced a terrific read with his latest book. – Keith Millar, ArtSmart

9 June 2014

It's an extraordinary work, meticulously crafted, that reads like a dream. […] If you see it, then take a risk and read some fine local writing. If you don't see it, then go find it. -Publish Cape Town, 9 June 2014

An undercurrent of cynicism adds bite to what would otherwise be a racy tale of love and adventure. The writing is assured and at times poetic, vividly conjuring up the enduring rocks and landscape of the Free State, the tented camps of the British, the choices, the destruction and, ultimately, the futility. – Jennifer de Klerk, Artslink
Gideon Lancaster betrayed both sides in the Boer War through one and the same act, and felt betrayed himself.
Thus this book begins.
Gideon is a Kiwi fighting with the Imperial forces against the Boer republics. He is sent to join the fanatical Jacob Eksteen's Boer commando as a spy. Gideon gets wounded and meets Esther Calitz, and soon doesn't know any more where his loyalty lies.
The book is full of action and tension, but doubt about the individual's national identity plays a fundamental role. (The fact that the author is a Boer living among Kiwis probably had some influence here.)
Read the reviews on Artslink, ArtSmart and M&G.