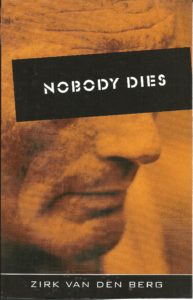 "A tense, spare tale which contrasts the claustrophobic interiors of its perfectly cast characters' lives with places nobody willingly goes: from lonely stretches of desert to the suburbs of Cape Town where dreams are punctuated by the sounds of howling alarms and dogs. […] Edgy and truly frightening. The writing is superb." – Michelle Hewitson, NZ Herald, 19 March 2004

"Nobody Dies operates superbly as an exciting crime tale with depth, but it's also more than that; it's a story of the character arcs of three people who are all searching for something in their own lives, and themselves. Powered by impeccable prose that veer poetic at times, Van den Berg's debut brings South Africa vividly to life, from the social clutter of the big cities to the wide expanses of the countryside. An absorbing, tense tale that delves into the grey areas in human hearts and minds. Terrific." – Craig Sisterson, Kiwicrime blog, 2015

"… mainly it's a novel about identity: who am I, can I escape my identity, who could I become? […] The writing is crisp, the detail and background fresh and believable." – Christine Cole Catley, NZ Listener,

"It's the most beautiful evocation of the obviously stunning South African landscape. […] The interrelationships between these people are really fascinatingly followed. So it's kind of a thriller, but it's a psychological thriller. […] A very good read and a dense, close read, an absorbing literary read, even though it's a crime novel." – Kate de Goldi, TVNZ Breakfast, 26 February 2004
An introspective character-driven crime novel set in Cape Town, South Africa. Instead of giving the people in her witness protection programme a new life, policewoman Erica van der Linde kills them… As her victims are meant to disappear anyway, her crimes stay hidden. But she hadn't yet met anyone like Daniel Enslin.
You may also want to check out the NZ Listener's review under the headline "Is Zirk van den Berg the best thriller writer in New Zealand?"
The book was written at a time when I was migrating, and the issue of a new identity, and longing for South Africa, affected the writing.
This book appeared in my Afrikaans translation in 2013, and a year later won the first KykNet-Rapport Award in the filmable book category. Production of the movie inspired by the book has wrapped up and it was released in 2019. (The trailer, with English subtitles, is here.)
Read the reviews in the NZ Listener and the blog review by Mack Lundy.
Buy the Kindle version on Amazon.