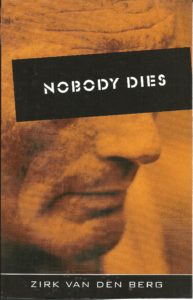 A tense, sparse tale which contrasts the claustrophobic interiors of its perfectly cast characters' lives with places nobody willingly goes: from lonely stretches of desert to the suburbs of Cape Town where dreams are punctuated by the sounds of howling alarms and dogs. […] Edgy and truly frightening. The writing is superb.- Michelle Hewitson, The New Zealand Herald
An introspective character-driven crime novel set in Cape Town, South Africa. Instead of giving the people in her witness protection programme a new life, policewoman Erica van der Linde kills them… As her victims are meant to disappear anyway, her crimes stay hidden. But she hadn't yet met anyone like Daniel Enslin.
You may also want to check out the NZ Listener's review under the headline "Is Zirk van den Berg the best thriller writer in New Zealand?"
The book was written at a time when I was migrating, and the issue of a new identity, and longing for South Africa, affected the writing.
This book appeared in my Afrikaans translation in 2013, and a year later won the first KykNet-Rapport Award in the filmable book category. Production of the movie inspired by the book has wrapped up and it should be released early in 2019.
Read the reviews in the NZ Listener and by Mack Lundy.
Buy the Kindle version on Amazon.